Delta på en av årets viktigste møteplasser for ledende aktører innen batteri- og hydrogenteknologi.
The MoZEES Annual Meeting 2022 is to take place at Holmen Fjordhotell in Asker on 1-2 November.
The meeting spans over the course of two days with an open conference on 1 November which will include plenary and parallel sessions on battery- and hydrogen technologies and systems from leading experts and industry in the field. The second day, on 2 November, will be a closed MoZEES meeting, which will be dedicated to internal discussions within the MoZEES Consortium.
Day 1: 1 November
Our esteemed speakers include:
Plenary
Lennie Klebanoff (Sandia National Laboratories, Livermore) – Hydrogen and Fuel Cells for Maritime Applications: From Feasibility Studies to First Demonstrations
Sonia Yeh (Chalmers University of Technology) – Modeling of future transport systems from different point of views: data, technology, behavior, and policy
Deborah Jones (University of Montpellier) – Membrane and Catalyst Materials and Components Development for Hydrogen Technologies
Alexander Blömeke (RWTH Aachen University) – Battery Electric Systems for Heavy Duty Transport Applications
Bios and abstracts plenary session
Batteries
Espen Larsen-Hakkebo (Brim Explorer) – Learnings from fire on board battery-powered MS Brim
Mathias Winther Thorsen (ECO STOR AS) – Making second life energy storage safe and viable. Status and future outlook
Hanne F. Andersen (IFE) and Paul Inge Dahl (SINTEF) – NABLA: Battery Cell fabrication research infrastructure
Martin Kirkengen (Cenate) – Innovative Silicon-based Anode Materials for High-capacity Li-ion Batteries
Andy Naylor (Uppsala University) – Probing interfacial reactions in sustainable rechargeable batteries
Marcus Martinsson (Stena Recycling) – Industrial recycling of lithium-ion batteries
Halvor Høen Hval (Morrow Batteries) – A sneak peek into Morrow and the technology of tomorrow
Johan Fridner (Hydro) – Hydro Battery Assets and Strategic Direction
Bios and abstracts Battery session
Hydrogen
Eirik Byklum (Equinor) – Demonstrating green hydrogen solutions for large-scale application
Håvard Stave (Hexagon Purus Maritime) – Compressed hydrogen gas as maritime fuel
Svein Johnny Naley (SEAM) – System Integration of Hydrogen-driven Fuel Cells for Maritime Applications
Kai Rune Heggland (NEL Hydrogen) – The world´s first fully automated electrolyser production facility
Kees Van Wingerden (Vysus Group) – Hydrogen Safety for Maritime Applications – A Liquid Hydrogen Case Study
Katie McCay (SINTEF) – Bipolar plates for PEM Fuel Cells (Title TBC)
Bios and abstracts Hydrogen Session
Day 2, 2 November
The closed MoZEES meeting, which will be dedicated to internal discussions within the MoZEES Consortium. The latest research developments in MoZEES will here be presented in plenary sessions in the morning and discussed in further detail in parallel RA-sessions in the afternoon. Please note that master students are not eligible to participate in the closed MoZEES Meetings on 2 November.
Registration
Please register for the conference using the following link: MoZEES Annual Meeting 2022 (pameldingssystem.no)
Room reservations must be done directly with the hotel: https://booking.holmenfjordhotell.no.
This is a physical meeting and the national guidelines for infection control related to Covid-19 will be complied with during the meeting.
Program Overview – 1st Announcement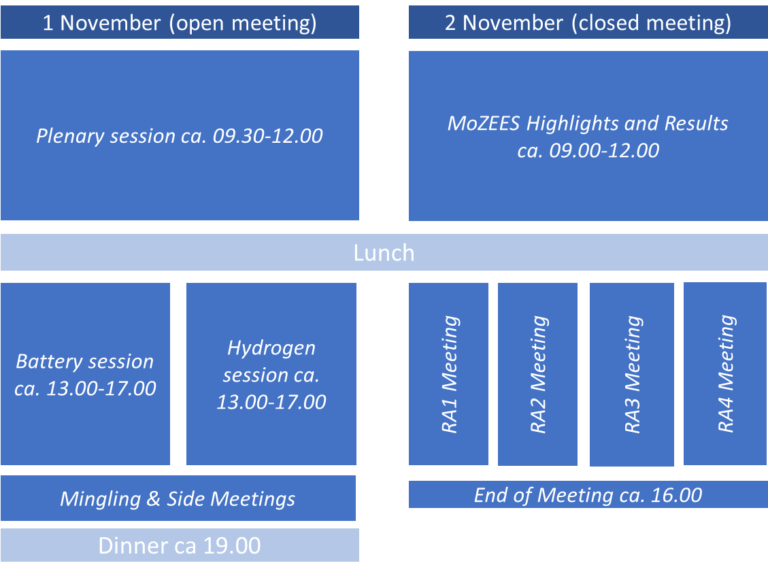 Questions?
If you have any questions about the registration or other practicalities, please contact Trine Løkseth (IFE) at trine.loekseth@ife.no
Queries about the scientific program can be sent to Øystein Ulleberg (IFE) at oystein.ulleberg@ife.no or Ragnhild Hancke (IFE) at ragnhild.hancke@ife.no