We are pleased to share the news that IFE's VR & AR department is part of a consortium that will collaborate on the development of European standards to accelerate the adoption of ethical and human-centric development processes for XR hardware and software. XR4HUMAN has been awarded EUR 2.5 million within Horizon Europe, the world's largest research and innovation programme. The common goal is to contribute to developing a strong and competitive ecosystem around XR technology for trade and industry, but in a manner that establishes trust among users and authorities. XR4HUMAN aims to make it easier for citizens, businesses, and public institutions to make good choices related to adoption and use of XR technology.
-Given the increasingly urgent need to address ethics, privacy, and security within the rapidly evolving XR and metaverse paradigms, the opportunity to collaborate with a strong consortium and continue to build a reputation for research in the emerging field of ethical human-centred design of XR systems is very exciting, said Michael Louka, head of the Virtual and Augmented Reality research department at IFE.
Benefits and risks of XR
The possibilities and benefits that XR technologies offer to augment and enhance human activities are prolific, however, the use and eventual ubiquity of XR technologies introduces novel risk. These risks include physical, mental, and social risks to users, legal risks, including data governance and rights to personal data, and risks related to abuse of power such as digital surveillance. Human-centred ethical design of XR solutions is also key to addressing the needs of all potential users with regards diversity, inclusivity, and accessibility, to ensure universal access to the benefits of XR technology based on European values.
The Project
The work of the twelve partners in the project is being coordinated by the University of South-Eastern Norway (USN). The consortium agreement was signed by all partners in June 2022, and work started in November 2022. Representatives from the consortium members met in Kongsberg for the project kick-off 15th and 16th November 2022.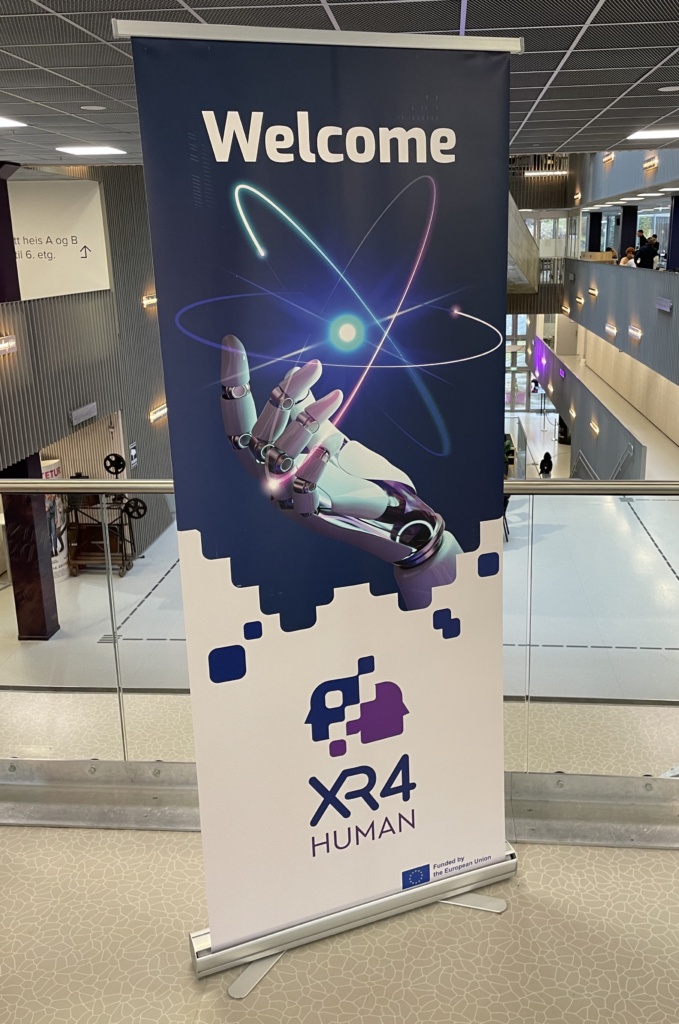 IFE's contributions to XR4HUMAN
IFE's Lucas Stephane is leading a work package on empowering end-users through a rating system and an educational toolbox for informed acquisition and usage of XR solutions. In addition, work on interoperability and seamless integration of XR is being led by Open AR Cloud Europe, with IFE as the other major contributor to that work package. IFE is a founding member of Open AR Cloud, which is working on open and interoperable spatial computing technology, data, and standards to connect the physical and digital worlds for the benefit of all.
Of the EUR 2.5 million from Horizon Europe allocated to XR4HUMAN, EUR 250 000 have been awarded to IFE. IFE's total participation will be 24 person months in the aforementioned and related project activities.
See also To lead EU research into eXtended Reality on USN's web site for information on the project from the perspective of the coordinating organisation.
About the project
This project has received funds from the EU's research and innovation programme Horizon Europe under Grant Agreement no 101070155.
Project title:
The Equitable, Inclusive, and Human-Centred XR Project (XR4HUMAN)
Partners:
University of South-Eastern Norway (USN) (Coordinating Institution) NO
Fontys University (FU) NL
Fraunhofer Heinrich-Hertz-Institute (HHI) DE
Institute for Energy Technology (IFE) NO
Karlsruhe Institute of Technology (KIT) DE
Leiden University (LU) NL
National Technical University of Athens (NTUA) GR
National University of Science and Technology (NTNU) NO
Open AR Cloud Europe (OARC) DE
University of Leeds (UoL) UK
University of Oslo (UiO) NO
XR4Europe (XR4Europe) BE