"The disappearance of the Halden Reactor means that the international demand goes up for various safety experiments on nuclear fuel to be continued in the BR2 reactor. By working jointly with IFE, we are in a condition to put our experience to good use to support these experiments", claims Eric van Walle (SCK-CEN). This collaboration implies a cross-pollination of knowledge. "Our research centers have several complementary skills and competences in the field of irradiation services. Working together also implies sharing a common vision, getting to know and optimize each other's techniques to improve our international service provision in terms of safe operation of nuclear plants." IFE will also be able to call on the broad knowledge and techniques developed by SCK-CEN during the decommissioning of its BR3 reactor to support the decommissioning of the Halden reactor.
«IFE continues to be committed to nuclear research even though the Halden Reactor will be permanently shut down", said Nils Morten Huseby, CEO of IFE. International collaboration has always formed a key part of IFE's activities and will be of even greater importance in the future, as the number of nuclear research facilities is decreasing internationally.
IFE has worked with SCK-CEN for many years through the Halden Project and our two research centers have established a close working relationship. Through this agreement we will be able to increase our collaboration both in the scientific research and decommissioning fields. SCK-CEN's experience from decommissioning the BR3 reactor will be of great relevance for IFE in the coming years, as the work to decommission the Halden Reactor will commence."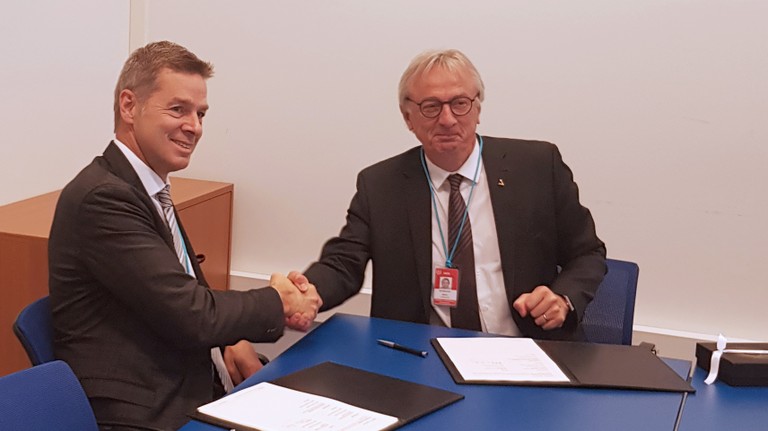 SCK-CEN
65 years of experience in nuclear science and technology
The Belgian Nuclear Research Centre (SCK-CEN) is one of Belgium's largest research centres. As a Foundation of Public Utility, SCK-CEN receives a grant from the federal government covering 45% of its running costs and investments; the remaining 55% come from its own revenues. It has more than 750 employees who devote themselves every day to developing peaceful applications of nuclear energy.
More info: www.sckcen.be
Press contacts
Nils Morten Huseby +47 905 44 545 – nils.morten.huseby@ife.no
Maud Vanderthommen  +32 (0) 473 58 61 04 – maud.vanderthommen@sckcen.be
Cathy Schoels  +32 (0) 0477 68 02 80  – cathy.schoels@gmail.com