'LiBs are almost omnipresent. We use them in cars and mobile phones and in every imaginable type of tool, we carry them in our pockets, or attached to our wrists, and we place them on our nightstands. It is therefore important to manufacture batteries with increasing capacity, but it is also essential to make batteries safer,' says Magnus H. Sørby, Senior Researcher.
The biggest safety risk in today's batteries is posed by the so-called electrolytes. This is a highly flammable liquid that conducts lithium ions between the electrodes inside the battery. Electrolyte fires have resulted in temporary grounding of the Boeing Dreamliner and forced Samsung to recall more than one million Galaxy Note 7 phones. As recently as Tuesday 31 July this year, a Ryanair aircraft was evacuated after a mobile phone battery caught fire just before the flight's departure to Ibiza.
IFE is working to increase the conductivity in safe batteries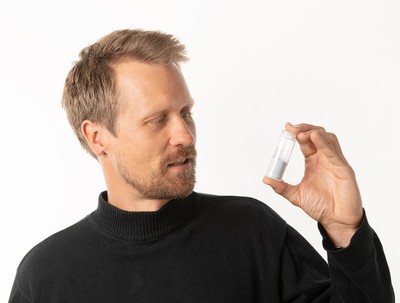 The most significant safety improvement that may be undertaken is to replace liquid electrolytes with a non-flammable solid material. There is a large international research activity in this area, and IFE's breakthrough is therefore attracting great attention among research communities working closely with major automotive manufacturers in both Europe and Asia.
Particular challenges have related to the conductivity of solid electrolytes, which has been lower and therefore less effective in less-flammable solid-state batteries. This is a puzzle that the institute's researchers now believe they have solved.
'Based on almost 70 years' experience and our world-leading competence in solid-state materials for hydrogen storage at IFE, we have developed a new solid-state material that conducts lithium ions almost as well as liquid electrolytes. The material also appears stable and safe when combined with electrodes in the battery, and no one has previously been able to demonstrate this combination,' says Bjørn Christian Hauback, Head of Department at IFE.
Necessary breakthrough for a green shift
Driverless vehicles, autonomous ships and the transition to renewable energy in aviation and in society as a whole require new, higher-capacity batteries, but which at the same time offer a low-risk investment for business.
The researchers at IFE predict that the development of next-generation batteries with solid-state electrolytes will ensure this, and that safe batteries of this type will be available within a few years.
This innovation presents several advantages for battery manufacturers:
The batteries can me made smaller, thinner and lighter.
The batteries will be much safer than today, with almost zero fire risk
The manufacturing process is more environmentally friendly than is the case for batteries containing liquid electrolytes
The battery researchers are now working with potential industrial partners who will be able to manufacture this new type of battery and who reckon that these will be on the market in a couple of years.
Facts about the project
The LiMBAT project is funded by the Research Council of Norway's ENERGIX programme.
The project has been underway for three years.
IFE's researchers are collaborating on the project with leading research groups in Japan and France, as well as other key Norwegian institutions working on materials and battery research.
The JEEP II research reactor at Kjeller has played a key role in developing knowledge about the materials used in the project.