INDY, Energy Independent and Efficient Deployable Military Camps
INDY represents one of the first strategic projects supporting the green energy transition and improved energy efficiency in the military infrastructure.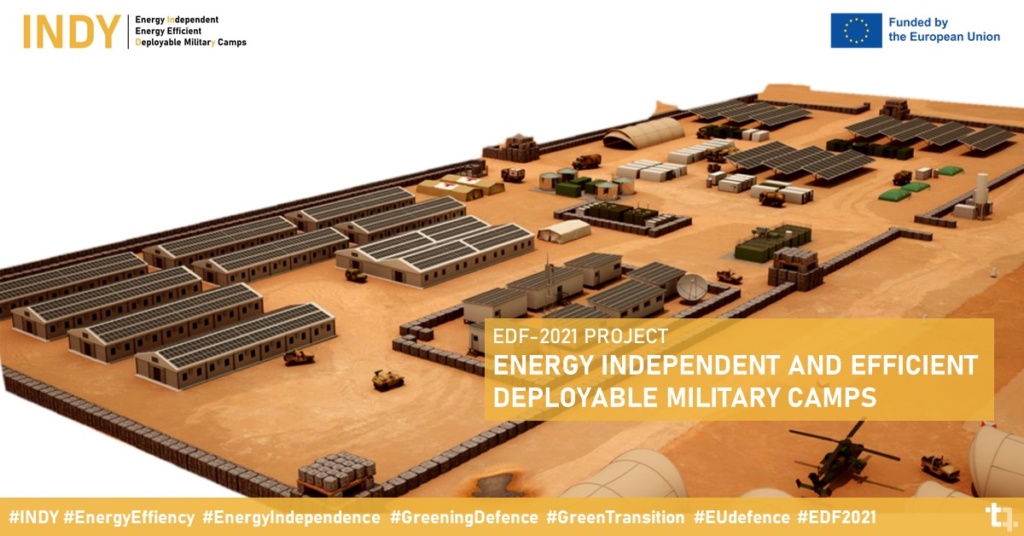 More than 31 partners and subcontractors from 13 European countries are collaborating on the project. More than 9 Ministries of Defence also support the INDY. The project lasts 26 months and is being implemented between December 2022 and January 2025.
About the INDY project
Both at national and international levels, energy transition is high on the priority list. According to the "Green Deal", the greening of military forces is necessary to reach the ambition defined by EU Member States. At the moment, deployable military camps are almost 100% dependent on fossil fuel. This not only means that the environmental footprint is high, but it also represents a weak point and vulnerability for the armed forces regarding logistics and dependence on fossil fuels. Given the growing energy needs for military equipment, this is becoming even more challenging.
The INDY project addresses the current problems of the military camps and their dependence on fossil fuels.
INDY's expected outcome is a strategic roadmap to develop and implement solutions for future energy-independent and efficient deployable military camps.
The roadmap will propose a paradigm shift towards:
a new approach to energy production, conversion, storage, transport, distribution and final use,
top-of-the-edge planning and simulation tools to develop new technologies, energy products and energy management systems for deployable military camps, also using experience from the civilian sector and applications.
The INDY project will be the first step to increase the security of energy supply andautonomy of deployable military camps and support their complete transition towards implementation of renewable energy sources with the use of new disruptive technologies and solutions for future military camps. The roadmap shall seek to reduce fossil fuel usage by 40% in 2030 compared to the present situation and reach 100% fossil fuel independency in 2050.
By strengthening collaboration between civil and defence representatives, the INDY project will further strengthen the participation of countries in the "Permanent Structured Cooperation – Energy Operational Function (PESCO-EOF) project, which includes the countries of France (coordinator), Belgium, Spain, Italy, Slovenia and the Netherlands as members, and Portugal, Ireland, Greece and Hungary as observer countries.
The INDY's partners and known subcontractors:
Austria: AVL List GmbH
Belgium: C&V Consulting, John Cockerill Renewables
Bulgaria: Bolgarian Defence Institute (subcontractor)
Estonia: Cafa Tech
France: The French Alternative Energies and Atomic Energy Commission (CEA), INEO Defense, Hensoldt Nexeya France, The French Institute for International and Strategic Affair (IRIS) (subcontractor), NOVAKAMP (subcontractor)
Greece: INTRACOM Defense AE
Croatia: DOK-ING d.o.o. (subcontractor)
Italy: Leonardo S.p.A., SIRA S.r.l. (subcontractor), University of Genova, DITEN (subcontractor)
Germany: Rheinmetall Project Solutions GmbH, Fraunhofer Society (Fraunhofer-Gesellschaft)
Netherlands: Netherlands Organisation for Applied Scientific Research (TNO)
Norway: Institute for Energy Technology (IFE)
Slovenia: TECES, Green Tech Cluster (coordinator), Kolektor Setup, University of Ljubljana (UL FS and UL FE), University of Maribor (UM FERI), Domel (subcontractor), ZAG (subcontractor)
Spain: Arpa Equipos Móviles de Campaña (ARPA), INDRA Sistemas SA, National Institute of Aerospace Technology (INTA).