Institute for Energy Technology (IFE), an international research organization based in Norway, at the forefront of driving forward sustainable energy solutions, and Createc, a world-renowned technology company known for its innovative solutions to complex industrial challenges are excited to announce a collaboration in robotics and sensing.
The collaboration, which was launched in Halden last week, created the framework for joint research, development and commercial application of robotics and sensing technologies targeted at work in hazardous environments.
Both organisations share a passion for developing digital based technologies to support work in nuclear and other hazardous environments removing people from harm or tedious jobs and using digital tools to assist in planning and remote interventions.
To commemorate this noteworthy event, IFE and Createc came together at the British Embassy Residence in Oslo to announce their collaboration and mark the inauguration of Createc's new Norwegian branch—a development intricately linked with this partnership. Subsequently, the two entities reconvened in Halden for a more in-depth unveiling of their collaboration and a detailed exploration of its anticipated impact. These occasions saw the presence of distinguished individuals from Stortinget (Parliament), the British Embassy, Halden Municipality, Norwegian Nuclear Decommissioning, Norsk Kjernekraft, Avfall Norge, and Equinor, further enhancing the significance of the celebration.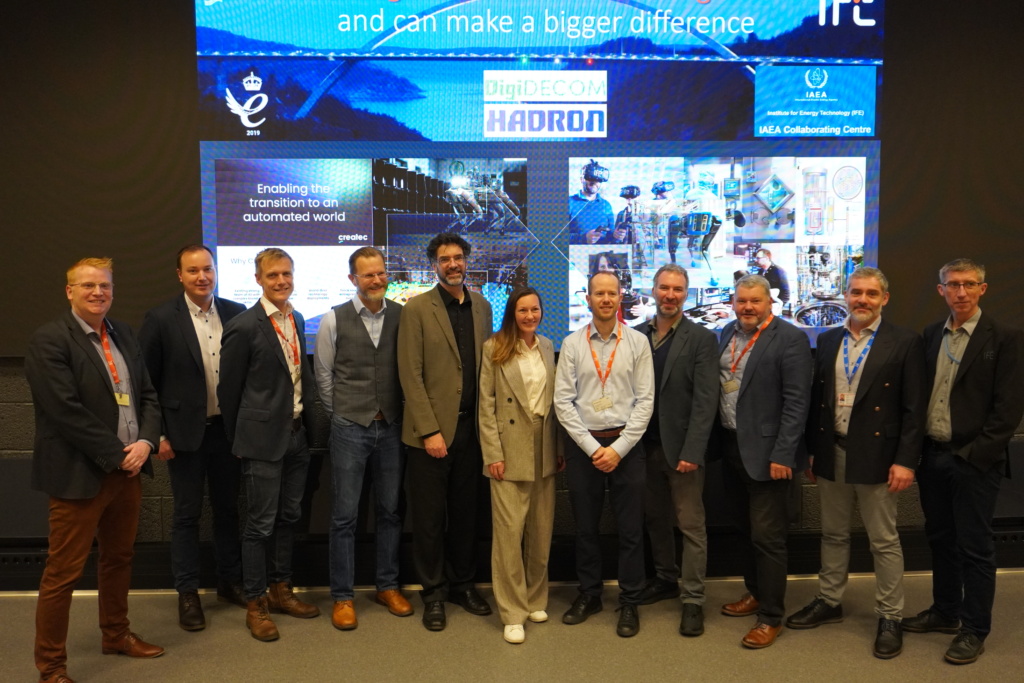 István Szőke of IFE expressed, "Createc and IFE have found common ground through the DigiDECOM community—a gathering of enthusiasts dedicated to advancing AI, data, and robotics-based innovation for the safe and sustainable decommissioning and management of nuclear and other safety-critical sites throughout their entire lifecycle. Over time, DigiDECOM has been instrumental in fostering numerous partnerships, and sparked the DECOM Cluster for further promoting robust collaboration between research and business.
The recent agreement between Createc and IFE marks a significant achievement for DigiDECOM, underscoring our commitment to catalyze and nourish partnerships that pave the way for advanced AI, data, and robotics solutions to reach maturity and accessibility for all. Createc shares a parallel vision regarding the future approach to cradle to grave management of hazardous sites, making this collaboration a source of great enthusiasm for us."
Mark Sharpe from Createc said "This is an exciting development for Createc following our announcement last week of the opening of our Norwegian company. This agreement builds on the long-established relationship between Createc and IFE. It offers our global customers a unique capability in this demanding but essential area for robotics and sensing development."
In essence, this collaboration represents a transformative leap towards a safer and more sustainable future, where cutting-edge technology meets environmental stewardship, leaving an indelible mark on the landscape of technological innovation.