There are large numbers of old reactors, nuclear facilities, and legacy sites worldwide, that are either being actively dismantled or are candidates for decommissioning in the near future. In support of decommissioning and nuclear knowledge management in Member States, IAEA's Department of Nuclear Energy signed an agreement today, on the side lines of the 62nd General Conference, with (IFE) in Halden.
"Establishing formal collaboration between the IAEA and IFE, will enable us to work towards improving the dissemination of research results and helping us identify emerging good practices for Member States," said IAEA Deputy Director General and Head of the Department of Nuclear Engineering, Mikhail Chudakov. "We hope that in due course, we will be able to designate IFE as an IAEA Collaborating Centre focussing on the application of digital systems to nuclear decommissioning."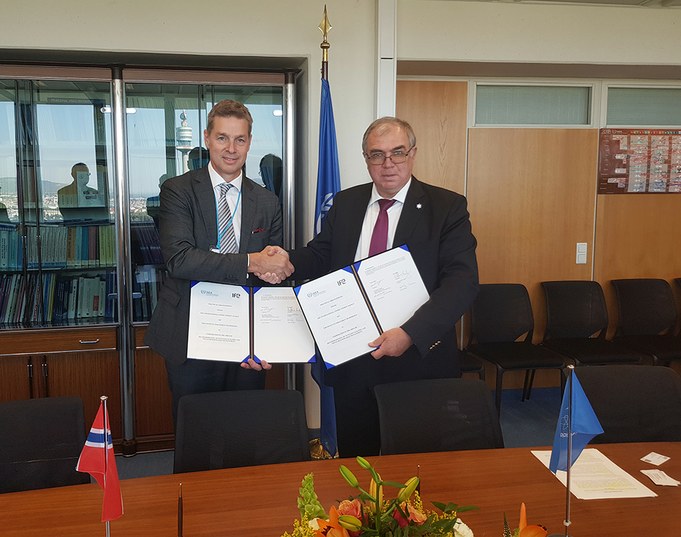 One of many steps to continue the close and important work in the OECD Halden Project
Establishing formal collaboration between the IAEA and IFE is one of many steps to build on the close and important work in the OECD Halden Project. IFE is the host to the Halden Reactor Project, an international collaborative research project under the umbrella of the OECD/Nuclear Energy Agency, addressing nuclear safety.
"IFE has been engaged in research and practical application of advanced digitally enhanced concepts for nuclear decommissioning for decades. With the coming decommissioning of the Halden Reactor, IFE and Norway have a strategic interest in enhancing the competence within this field. IFE would like to take a leading role for facilitating a smooth adoption of innovative digital support concepts by the industry, in collaboration with the IAEA", says IFE's CEO, Nils M. Huseby.
Under the new practical arrangements, the parties have identified the following activities in which cooperation may be pursued:
Exchange and dissemination of unclassified information, including publications and sharing of experiences, best practices and case studies;
Training and capacity building, including cooperation, as appropriate, in the development of educational and training courses and considering digitalization of knowledge management for nuclear decommissioning; and
Support, as appropriate and to the extent determined by the Parties, for events, such as meetings, symposia, workshops, to be organized by either Party or by both Parties.
CONTACT INFORMATION
CEO: Nils Morten Huseby, tel. +47 905 44 545
Research Director: Tomas Eric Nordlander, tel +47 988 24 892
Research Program Manager: István Szöke, tel. +47 454 98 721