EnCyCriS will be arranged online. The workshop date is June 30th, 07:00 – 13:15 CEST

.

Please note that during registration process, select EnCyCris; see the figure below.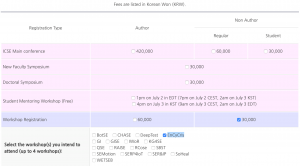 Information regarding teleconferencing will be sent by email on June 25th. If you did not receive such email, please contact André Hauge (andre.hauge@ife.no)

The 4th Industrial Revolution refers to the era of revolution created by the convergence of cyberphysical systems and the advances in the information and communication technologies. The 4th Industrial Revolution aims at the intelligent world through connection, decentralization, sharing, and opening. Software is the driving force of the 4th Industrial Revolution. Like other industries or domains, Critical Infrastructures (CI) such as energy, transportation, and public health are also going through digital transformation to optimize their services and processes as well as to reduce costs. However, adoption of digital technology for critical systems has exposed them to cyber, physical and combined cyber-physical threats. A cyber-attack on a critical system can inflict severe catastrophe to society, economy and national security. Assuring safety and reliability of these systems is also of utmost importance. This workshop opens discussions among researchers, practitioners and students who are working on challenges and solutions for the 4th Industrial Revolution, including cyber threats to critical systems; secure software engineering; and attack detection and response mechanisms.
The objectives of the workshop, in terms of the R&D presented in the paper contributions, is to provide state of the art and practice in:
– integrated and secured software engineering processes and methods for CI that enable coordination among different stakeholders, experts and engineers, continuous integration of new and emerging technologies that enable the 4th Industrial Revolution, and interdependencies of CIs and their rippling effects,
– threat landscape for digital systems' software in CI, modelling cyber-attack scenarios and digital systems' architecture and interdependencies. This includes to assess how to specify accurate software architecture design models that facilitates cybersecurity and Reliability, Availability, Maintainability and Safety (RAMS) assessment and support effective
communication of the threats, vulnerabilities, risks and potential mitigation to relevant stakeholders as decision support.
– developing risk models for digital systems' software that could be used during response of fast evolving cyber incidents. For e.g. how to use, combine or tailor software system models, network topology, risk models, in a way that they could used by incident responders to determine event propagation and suitable response strategies.
– relevant early signals of threats to digital systems' software for timely detection and response