This workshop is organized in conjunction with the 45th International Conference on Software Engineering (ICSE). The workshop will be held in may 2023.
Call for papers
The workshop will facilitate discourse and discussions among researchers, practitioners, and students who are working on challenges and solutions related to the industrial revolution There will be a particular focus on sharing industry experience and project results pertaining to cyber threats on critical systems, secure software engineering, and attack detection and response mechanisms.
EnCyCriS invites contributions from research scholars and practitioners working on challenges and solutions for engineering and cybersecurity of critical systems on the following topics:
Safe, reliable, and secure by design - and - Safety and security co-engineering.
Threat modeling and analyzing software systems security in critical infrastructures.
Identification and impact estimation for response of cyber effects on software and hardware of critical infrastructures using models, simulations, and digital twins.
The role and impact of human in cybersecurity in critical infrastructures development and operation.
Important dates
Paper Submission Deadline: 30th January 2023
Paper Acceptance Notification: 24th February 2023 6th March
Camera-ready Papers: 17th March 2023
Workshop date: May 20th
Program
This workshop will include keynote talks and accepted papers organized into different sessions, with a corresponding session chair. Each presentation (pre-recorded video or live presentation) will be followed by a live Q&A session where the authors will be invited.
Full program accessible on the ICSE webpage.
Social Event
EnCyCriS Social Function taking place on Friday 19 May from 1800 – 2100 at:
Bang Pop, South Wharf,
35 S Wharf Promenade,
South Wharf VIC 3006
The event will include dinner and a 3 hour beverage package (no spirits).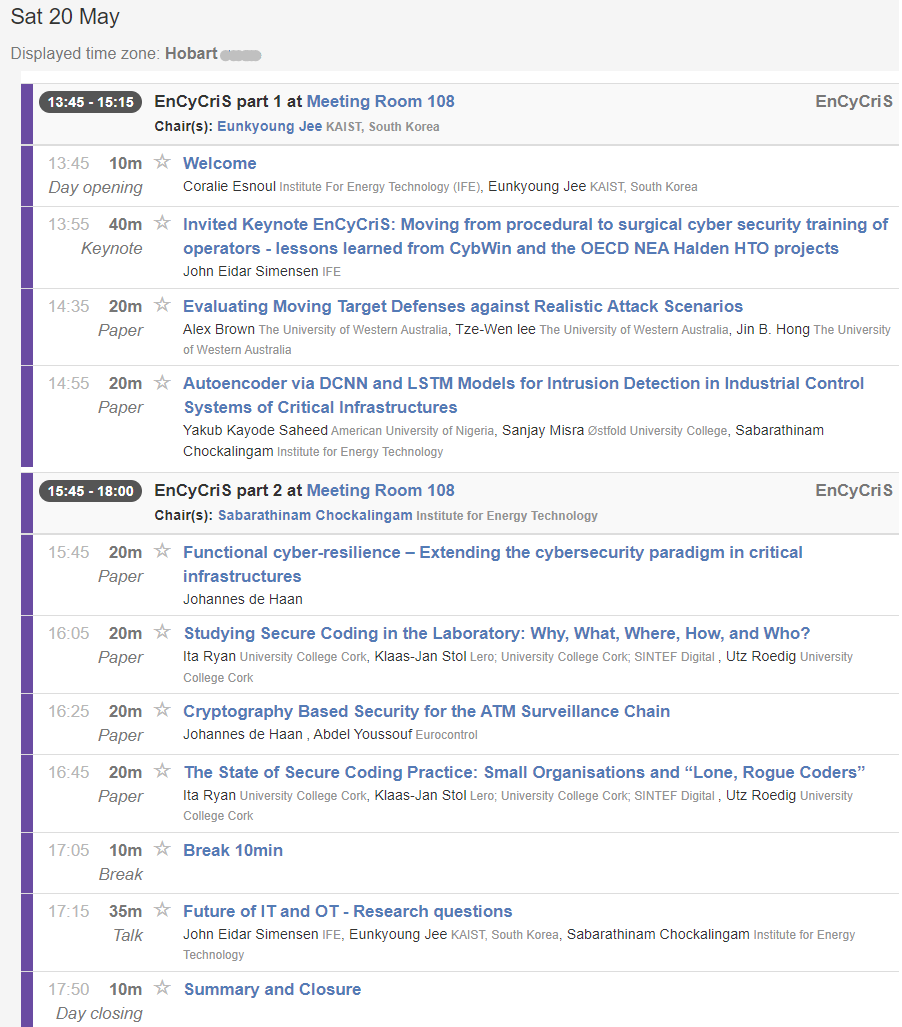 Paper Submission
Workshop proceedings will be prepared by IEEE CPS and published in ACM Digital Library and IEEE Xplore Digital Library. Workshop papers must follow the ACM formatting instructions. Papers must have a maximum length of 8 pages. All paper should be submitted in PDF through the HotCRP platform of the workshop: https://encycris23.hotcrp.com/
Each paper will be reviewed on the basis of technical quality, relevance, significance, and clarity by at least three program committee members.
Accepted papers:
Studying Secure Coding in the Laboratory: Why, What, Where, How, and Who?
Ita Ryan1, Klaas-Jan Stol2, Utz Roedig3
1. School of Computer Science and Information Technology, University College Cork. Science Foundation Ireland Centre for Research Training in Advanced Networks for Sustainable Societies
2. Lero, the SFI Research Centre for Software, School of Computer Science and IT, University College Cork
3. Connect Research Centre, School of Computer Science and IT, University College Cork
Evaluating Moving Target Defenses against Realistic Attack Scenarios
Alex Brown, Tze-Wen Lee, Jin B. Hong
University of Western Australia
Functional cyber-resilience – Extending the cybersecurity paradigm in critical infrastructures
Johannes de Haan
EUROCONTROL
Cryptography Based Security for the ATM Surveillance Chain
Johannes de Haan, Abdel Youssouf
EUROCONTROL
Autoencoder via DCNN and LSTM Models for Intrusion Detection in Industrial Control Systems of Critical Infrastructures
Yakub Kayode Saheed1, Sanjay Misra2, Sabarathinam Chockalingam3
1. American University of Nigeria
2. Østfold University College
3. Institute for Energy Technology
The State of Secure Coding Practice: Small Organisations and "Lone, Rogue Coders"
Ita Ryan, Klaas-Jan Stol, Utz Roedig
University College Cork
Registration
All participants, including workshop organizers, keynote speakers, and invited guests, must register for the workshop through ICSE webpage. Registrations are mandated and must be performed at least 10 days prior to this workshop. We cannot guarantee participation after this date.

Please follow the ICSE conference instructions:
https://conf.researchr.org/attending/icse-2023/Registration

The workshop is included in the "co-located event registration" category. Participants require only one day participation.
Venue
This workshop will be organized as a physical and virtual hybrid event. The physical venue of this workshop is Melbourne Convention and Exhibition Centre, Melbourne, Australia. The workshop is aiming to be organized physically as a co-located event to ICSE 2023. Be advised that although we aim for a hybrid event (both physically and digitally), the digital option is not confirmed yet and may be changed. The workshop will not cover participants or authors expenses for travel or registration
A social arrangement for the organization staffs, authors and participants is organized on Friday May, 19th in Melbourne at 18:00 PM local time, at Bang Pop, South Wharf.
Organization
Program committee
Doo-Hwan Bae, Korea Advanced Institute of Science and Technology (KAIST), South Korea
Eunkyoung Jee, KAIST, South Korea
Sizarta Sarshar, Institute for Energy Technology (IFE), Norway
John Eidar Simensen, IFE, Norway
Sabarathinam Chockalingam, IFE, Norway
Ricardo Colomo-Palacios, Universidad Politécnica de Madrid, Spain
Mary-Ann Lundteigen, Norwegian University of Science and Technology (NTNU), Norway
Nadia Saad Noori, University of Agder, Norway
Vasileios Gkioulos, NTNU, Norway
Nathan Lau, VirginiaTech, USA
Mehdi Mirakhorli, Rochester Institute of Technology, USA
Paul Smith, AIT Austrian Institute of Technology, Austria
Kate Labunets, Utrecht University, The Netherlands
Milan Lopuhaa-Zwakenberg, University of Twente, The Netherlands
André Teixeira, Uppsala University, Sweden
Sridhar Adepu, University of Bristol, United Kingdom
Organization Committee 
Coralie Esnoul, IFE, Norway
Eunkyoung Jee, KAIST, South Korea
Doo-Hwan Bae, KAIST, South Korea
John Eidar Simensen, IFE, Norway
Sabarathinam Chockalingam, IFE, Norway
Ricardo Colomo-Palacios, Universidad Politécnica de Madrid, Spain
Contact
For any questions, please contact our organizers: coralie.esnoul@ife.no and ekjee@se.kaist.ac.kr