The CybWin project (CybWin - Cybersecurity Platform for Assessment and Training for Critical Infrastructures – Legacy to Digital Twin - IFE) is approaching its end this autumn. Therefore, the partners gathered this week in Oslo to share the results of the project. On the 8th of September, results were presented to the public through the ESRA seminar (Cyber security in critical infrastructure). Friday the 9th of September, results were presented for employees at Statnett by the CybWin project manager John Eidar Simensen. Partners in CybWin besides IFE and Statnett are Norwegian NTNU, Secure-NOK AS, Avinor Flysikring AS, KraftCERT, VTT Technical Research Centre of Finland Ltd, EUROCONTROL, and Korean Advanced Institute of Science and Technology (KAIST).
CybWin provides realistic use cases
One infrastructure, referred to as Digital Station (DS) enclave, has been established as part of the CybWin project. The DS enclave is built based on power grid domain expertise with the help of Statnett SF, the transmission operator (TSO) in Norway, the power grid system responsible in Norway, and the power grid vendor Siemens Norway. The DS enclave is part of the digital station use case in the CybWin project, where the core project goals are to build a cybersecurity platform with physical, replicated, and simulated components of real-world Norwegian critical infrastructure.
- CybWin addresses cyber security of critical infrastructure and has given us very realistic system and user scenarios, also called "use cases" through development of the Cyber Security Centre. This project has ensured that IFE can, in a short time, carry out controlled research experiments in cyber security of critical infrastructure, says John Eidar Simensen, project manager for CybWin, and responsible for the Cyber Security Center at IFE in Halden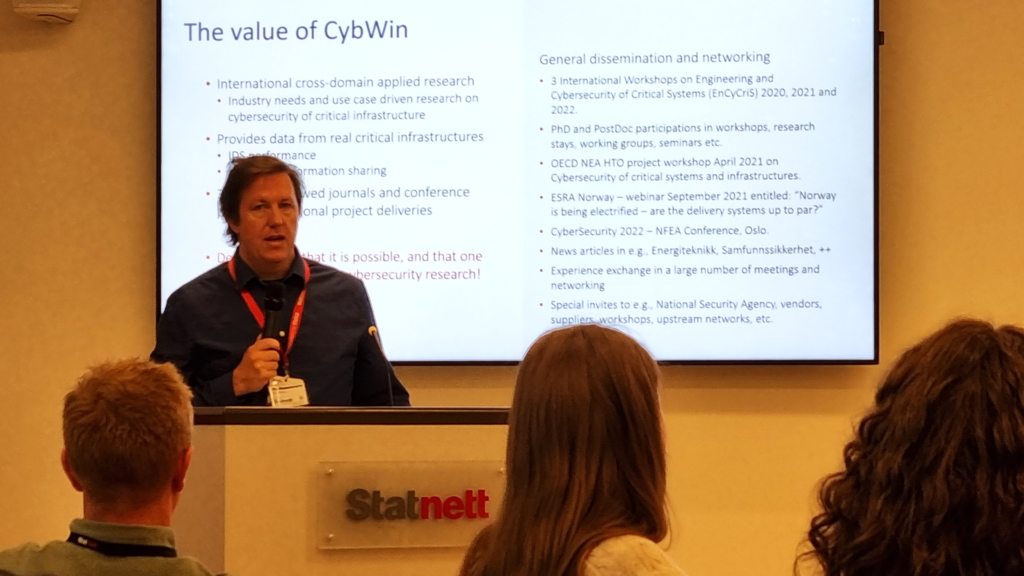 The platform is empowered with tools for RAMS (reliability, availability, maintainability, safety) assessment, vulnerability assessment, attack simulation and incident prediction and response. The DS enclave is established as part of Institute for Energy Technologies (IFE) cyber laboratory, located within IFE's Cyber Security Center. IFE's Cyber Security Center offers facilities and expertise to investigate threats to data security and to evaluate the protection mechanisms for cyber-attacks. The Cyber Security Centre offers a realistic hardware-in-the-loop (HiL) environment to study how people, process and technology interact with each other to provide holistic solutions to safeguard data security and operation safety.