Career
At IFE, Institute for Energy Technology, researchers from over 38 countries work for a better future. Our research reactors have built outstanding expertise for 70 years and enabled us to handle unique projects. They have led to improved nuclear safety in our neighboring countries and around the world, and are also central to the development of cancer drugs and innovative material research in Norway and internationally.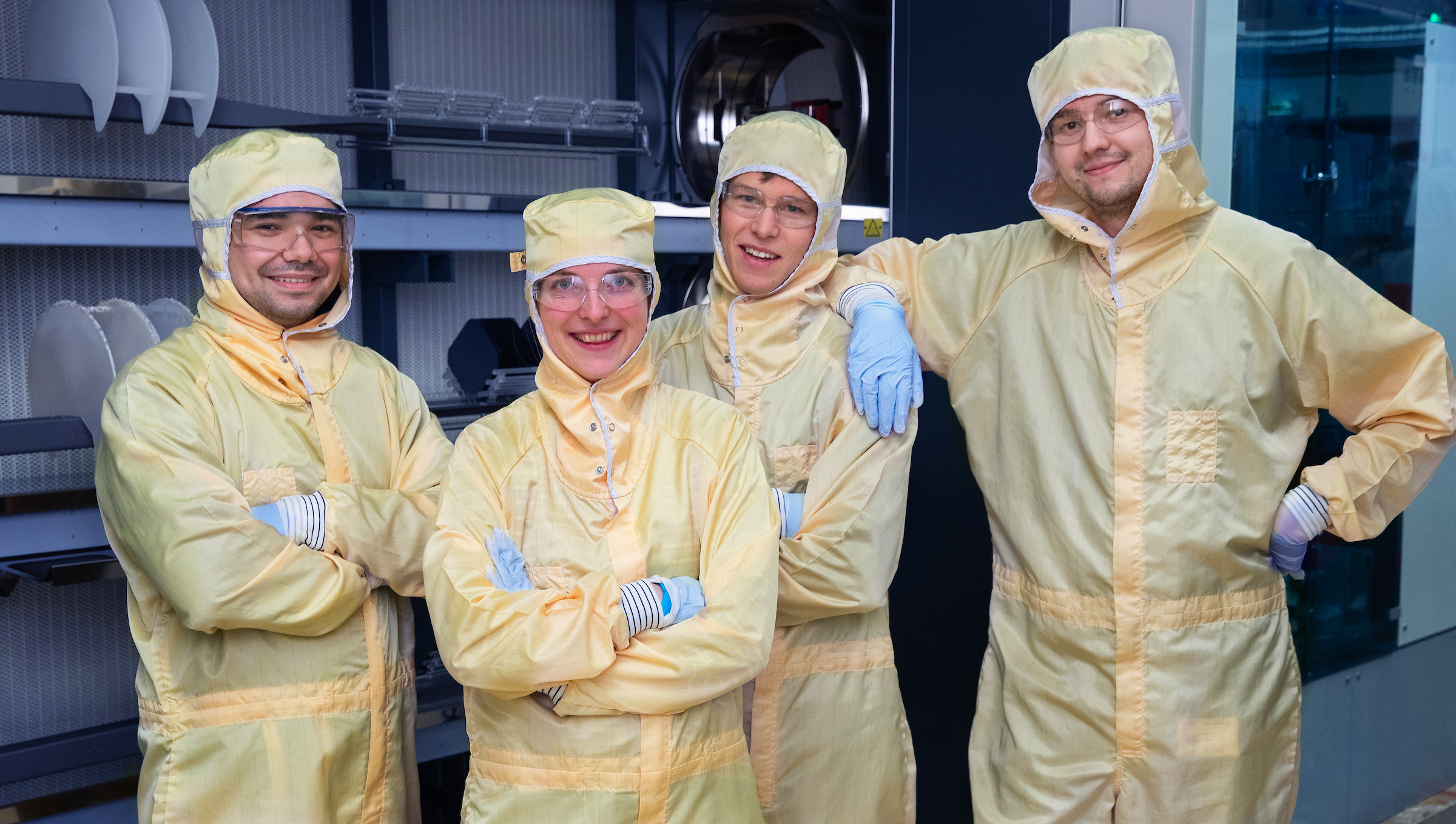 We participate in large, international projects, and 40 per cent of IFE's income comes from international projects. IFE is working with the whole spectrum of energy. Our researchers contribute to the development of next generation of battery technology, lower emissions from oil and gas, zero emissions in the transport sector and better solutions for sun, wind and hydrogen. We produce and develop cancer drugs.
IFE's workplace is characterized by a good working environment, and offers competitive wages and working conditions. We focus on competence development and are strongly committed to health, environment and safety.
We look for you who are interested in developing your skills together with our employees. You have a desire to work in an international, leading professional environment where there are great opportunities for growth and development. We are dedicated to delivering research that creates changes.
Vacant positions
Position
Location
Application deadline
Phd Scholarship
Kjeller
2020-06-08
Description:
The position is at the department of Computational Materials Processing at IFE and in collaboration with the University of Oslo (UiO). The topic of the work will be within the field of Reduced Order Modelling (ROM) for creating digital twins of industrial processes.
The department of Computational Materials Processing (MatPro) conducts research and development on industrial processes, reactors and devices based on mathematical modelling of the underlying physical and natural phenomena. Numerical methods, especially the Finite Element Method, are important tools employed by the department. The department has more than 30 years of experience with the Finite Element Method and we have developed our own mathematical models in various projects with national and international industries. Our tools are used worldwide.
The University of Oslo is Norway's oldest and highest rated institution of research and education with 28 000 students and 7000 employees. Its broad range of academic disciplines and internationally esteemed research communities make UiO an important contributor to society. The group "Mechanics" at the Department of Mathematics conducts research in applied, experimental, theoretical and computational mechanics with a focus on fluid mechanics. Of particular relevance to this call is the groups work on the software library FEniCS, a finite element library with an international user and developer base and its reduced order toolbox RBniCS.
Qualifications:
MSc in physics, mechanics, materials science, cybernetics, mathematics, numerical methods or equivalent.
Good background in numerical modelling and good programming skills
Knowledge of data analysis and numerical algorithms for solving particle differential equation (PDE), the finite element method (FEM) in particular, is preferable
The norm for grade requirements is as follows:
the average grade point for courses included in the Bachelor's degree must be C or better in the Norwegian educational system
the average grade point for courses included in the Master's degree must be B or better in the Norwegian educational system
the Master's thesis must have the grade B or better in the Norwegian educational system
English requirements for applicants from outside of EU/ EEA countries http://www.mn.uio.no/english/research/phd/application/application.html
Prefered profile:
Good communication and presentation skills
Teamworking skills
Creativity, curiosity, and a drive to find the best solutions

Application deadline:
2020-06-08
PhD candidate in corrosion modelling
Kjeller
2020-06-11
Description:
We offer a PhD candidate position in the Corrosion Technology Department. The position is fully funded for 3 years and is part of a joint research project between IFE and the University of Stavanger. The PhD student will be affiliated to the University of Stavanger. The project is funded by the Research Council of Norway and oil and gas companies.

You will join a dynamic group focused on applied corrosion science. We are working to assure safe transport of oil, gas and CO2 in pipelines and strive
for better models to predict corrosion rates.

You will work in a project to expand knowledge on corrosion occurring top-of-the-line in pipelines transporting unprocessed natural gas. Your contribution will involve carrying out lab experiments, setting the results in context with existing knowledge and developing models to predict corrosion rates. The results of the work are planned to be published in peer-reviewed international scientific journals and presented at international conferences in corrosion and materials science.

Qualifications:
Master's degree or MSc in chemistry, physics, materials science or closely related disciplines
Knowledge of corrosion or electrochemistry
Experience with characterisation of materials is a plus
Experience with tools for modelling chemical and physical processes is a plus

Prefered profile:
We need a motivated person who has excellent problem-solving skills and who will be an active participant and collaborator in our group. You will have the chance to gain knowledge and skills that will support and extend the opportunities for us as a research group and for you as a developing scientist. We focus on delivering technology needed by our partners and by society.

Application deadline:
2020-06-11
VR/AR Utvikler (Ingeniør/Forsker)
Halden
2020-06-15
Description:
VR&AR-avdelingen arbeider med 3D, VR&AR teknologier og lokasjonsbaserte informasjonssystemer. Avdelingen har over 25 års erfaring med utvikling av virtuelle prototyper, digitale tvillinger, spill- og simuleringsteknologier for sikkerkritisk industri. Våre løsninger er basert på anvendt forskning for design av arbeidsmiljøer, arbeidsplanlegging, og trening i virtuelle miljøer. Vi har et økende antall flerårige prosjekter for stabile kunder og trenger derfor flere medarbeidere. Vi har et sterkt fokus på menneskesentrert design, åpne filformater, plattformuavhengige programvarer og løsninger for samhandling, som kombinerer 3D-teknologier med AI og simulering til beslutningsstøtte og økt situasjonsforståelse. Se www.ife.no/vr for mer informasjon om avdelingen.
Sektor Digitale Systemer ved IFE har verdensledende spisskompetanse innen forskning, design, utvikling, og evaluering av komplekse digitale systemer. Vi er i dag ca. 85 medarbeidere fordelt på syv fagavdelinger.
Qualifications:
Du må ha spisskompetanse innenfor 3D, VR- og/eller AR-utvikling men kan godt være nyutdannet
Du er utdannet bachelor, master, eller Ph.d. innenfor et teknisk fag. Har du mastergrad eller PhD så vil du være kvalifisert til forskerstilling hos oss
Med mindre du er nyutdannet med VR/AR som spesialisering så må du kunne dokumentere at du har jobbet minst ett år med VR/AR-utvikling i løpet av de siste tre år
Erfaring med utvikling av VR/AR-løsninger som anvender BIM- og GIS-data, støtter arbeidslagtrening, simulerer robotikk, og/eller støtter historiefortelling for flere samtidige brukere er et pluss
Erfaring med scrum, menneskesentrerte designprosesser og smidige metoder for utvikling av sikkerhetskritiske systemer er et pluss
Erfaring med web-orientert JavaScript, WebXR, Three.js, eller backend-utvikling er et pluss

Erfaring med C#, C , JavaScript, eller Java-utvikling og bruk av scenegraf-APIer til verktøyutvikling er et pluss

Erfaring med shader-programmering er et pluss

Muntlig og skriftlig god i engelsk. Muntlig og skriftlig god i norsk er et pluss
Prefered profile:
Du er nøyaktig, kvalitetsbevisst, og opptatt av å skrive ren og lesbar kode

Du er strukturert og ryddig, med sans for detaljer

Du er omgjengelig og samarbeider godt med kollegaer og oppdragsgivere men kan også jobbe selvstendig

Du liker å dele kunnskap og erfaringer med andre og å lære av andre

Du liker å holde deg orientert om ny teknologi og prøve det ut
Application deadline:
2020-06-15
Research Scientist – Department of Humans and Automation
Halden
2020-08-01
Description:
We are looking for an engaged and inquisitive research scientist with an interest in human-automation interaction to join our growing team!
The Humans and Automation (HA) department is part of the Digital Systems sector at the Institute for Energy Technology in Halden, Norway. In the HA department, we are particularly interested in how technology shapes the world around us, and how technology can change the way humans move through the world. Our focus is primarily on the interaction and teaming between humans and advanced technologies, especially in highly digital and/or complex environments. We are curious about how the advanced technologies work, what effect they have on people in those environments and how interactions between these people and technologies can be improved. Our mission is to better understand these interactions to support the design and development of future digital, automated and even intelligent systems, with the underlying goal of optimizing performance and safety.
We aim to approach the problem space from two different perspectives: (i) understanding what the human needs to know about the technology in order to more effectively interact and collaborate with it; and (ii) understanding what the technology needs to know about the human in order to safely and efficiently interact with them. Our multi-disciplinary team supports our goal of examining problems from these different perspectives. In the HA department, you will work with people who have backgrounds in Human Factors, Cognitive Psychology, Computer Science, Artificial Intelligence, Electronics Engineering and Mechatronics. We have a strong collaboration network across the Digital Systems sector and within IFE, as well as throughout Norway, Europe, North America and Asia. This is facilitated by our involvement in the Halden Reactor Project, and participation in research projects for the Research Council of Norway and the European Union. Our recently established Center for Advanced Sensor and Robotics Research laboratory, and Halden Aerospace Laboratory open up new possibilities for exciting, cutting-edge research and collaboration with our extended partner network.
To strengthen our team and support our research ambitions, we are advertising a full-time position for an engaged and inquisitive research scientist with experience in human-automation interaction. The most important thing for us is that you have an interesting academic background and that you are eager to work in research and development!
The Digital Systems (DS) Sector is a world leader in research, design, development and evaluation of complex digital systems. DS currently employs approximately 85 people in seven research departments.
Qualifications:
You have a master's degree or PhD in Human Factors, Cognitive Psychology or another relevant subject.

E

xperience with some or all of the following: human-automation interaction, human-robotics interaction, designing and Conducting empirical studies, application of Naturalistica methods, use of futures technologies, biometrics, eye-tracking.

Industry experience with any of these topics is a plus.

Good

oral and written English language skills.

Norwegian language skills are a plus.

We encourage you to submit a cover letter (written in English) outlining your interest in this position, as well as having your full resume (including highlighted publications) as an attachment to your application.
Prefered profile:
You are diligent, quality-minded and motivated to solve challenges and find new and interesting areas for research.

You are well-organized with an eye for details.

You enjoy working with people and collaborating well with colleagues and clients, but are also motivated to work independently.
Application deadline:
2020-08-01
Post doc - offshore wind turbine control systems
Kjeller
2020-08-03
Description:
IFE's Wind Energy Department

IFE has had an organization unit with wind energy R&D as primary focus for over 40 years.
Offshore wind turbines has been the primary focus the last 12 years.
We work closely with both industry, research institutes and universities.
We have significant experience with most offshore wind turbine concepts, both bottom fixed and floating.
We develop and/or analyze complete offshore wind turbines or their components.
We assist engineering, enabling them do what they want themselves.
We develop and sell our own state of the art offshore wind turbine simulations software 3DFloat, which is one of the most advanced such tools today.

We measure our success by our impact on the offshore wind industry.
Our goal is to enable our industry partners to produce new values of a significant magnitude for society.

Qualifications:
PhD degree or equivalent competence relevant for the described work on offshore wind turbine controllers

Competence within numerical modelling of wind turbines is desirable
Competence within programming
Very good oral and written English and Norwegian
Ability to obtain a Norwegian security clearance
Prefered profile:
Ability to work well both independently and in teams
Creative, curios and goal driven
Application deadline:
2020-08-03
Who works at IFE?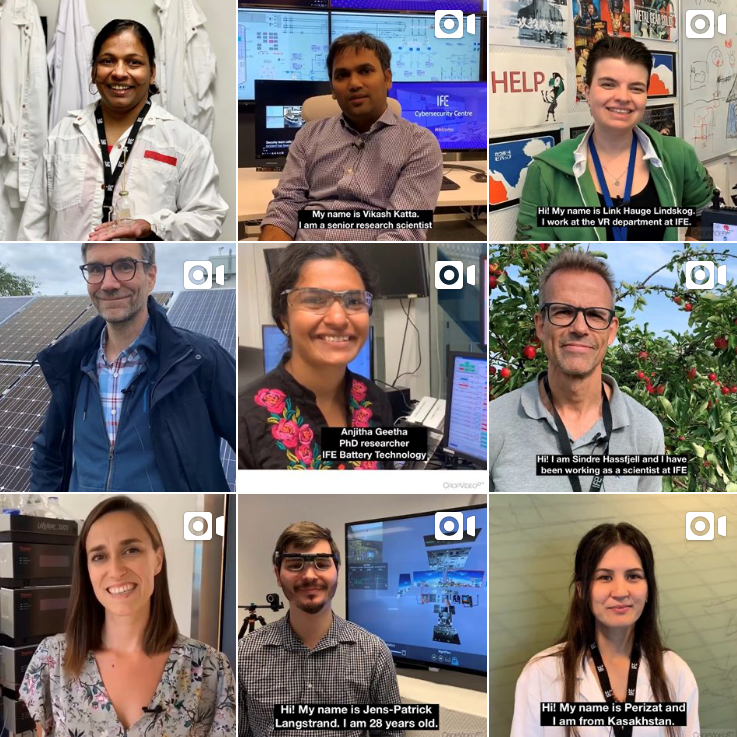 Curious about who works at IFE and what we do? Follow us on Instagram @humansofife. Here we present employees who work in different functions, from researchers and engineers within our various disciplines, to administration and support staff. Our people are our most important resource!
Links:
Master thesis at IFE?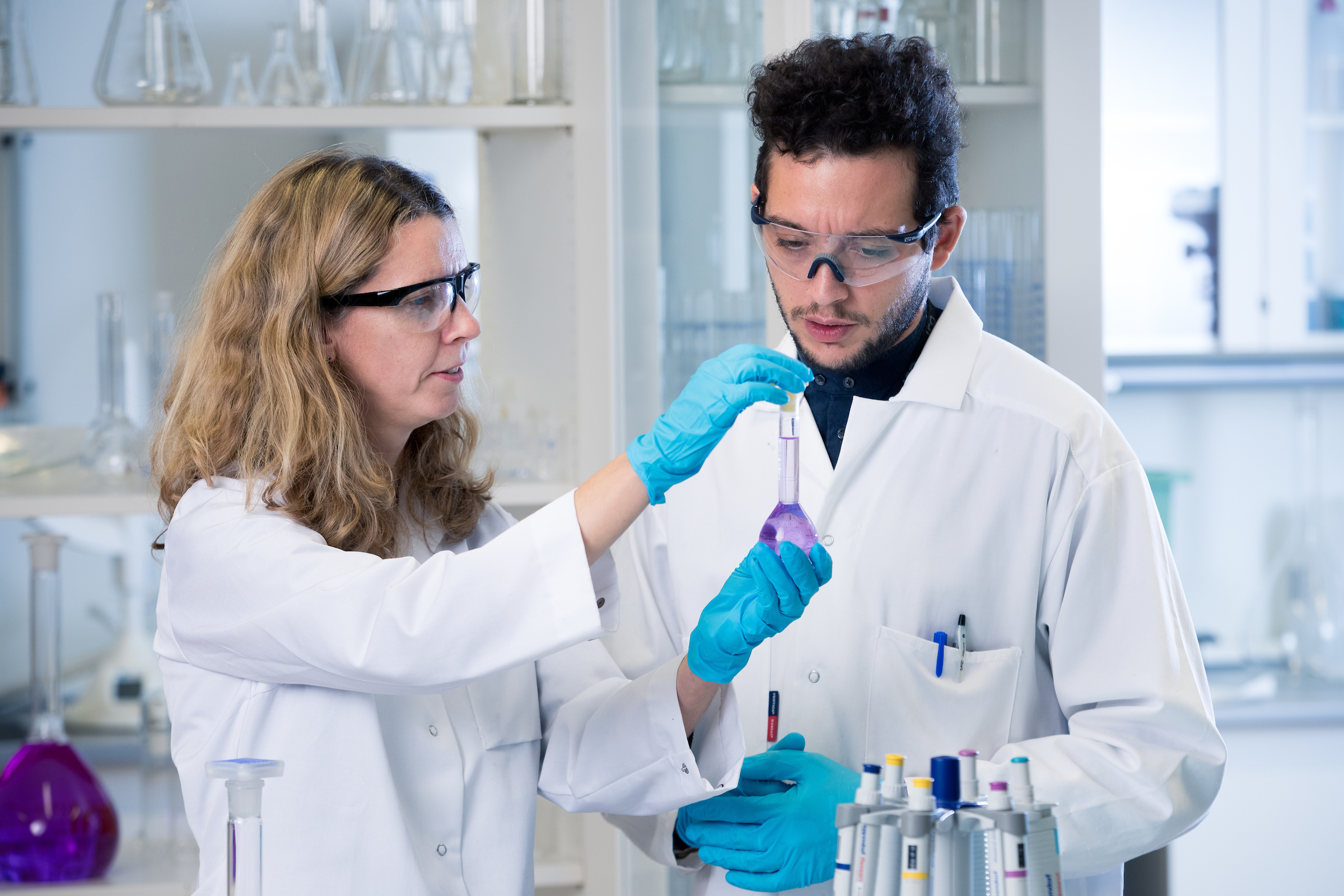 IFE has extensive collaboration with students at master level, and many departments offer guidance and access to experimental facilities at IFE for master students.
You can contact the Department Head or other contact persons with your own suggestions and ideas for a master project. Please find the appropriate contact person on our organization or contact web pages.
See some predefined master projects below and more on our Norwegian page.
Links:
Employee benefits
At IFE, we have employee benefits that will help to assure security, stimulate physical activity and contribute to a good work-life balance.
Your employee benefits:
• Collective pension scheme through the Norwegian Public Service Pension Fund
• Mortgages through the Norwegian Public Service Pension Fund
• Collective personnel insurance and disability pension and survivor's pension
• Flexible working hours
• Full salary during parental leave and illness
• Extra day off in connection with Christmas and New Year
• Support for education
In addition, we can offer:
• Corporate sports team and support for fitness center
• Canteen arrangements